While many consumers are usually used purchasing electronics at a steep discount right before the holidays, the sheer number of smartphones having their prices cut is almost unbelievable. Included smartphone devices are Apple's iPhone 4 and iPhone 3Gs, Google's newly released Nexus S, Droid Incredible and Sony's XPERIA X10, among others-all since Dec. 1.
Apple's iPhone. The current iPhone 4 price cut is the second legitimate discount since its release; the first was at Radio Shack, which offered it for $149 and the iPhone 3GS for $49. This time, consumers are getting a break at Sam's Club in the U.S., according to a copy of a Kiosk Priority Note detailing the iPhone 4 and iPhone 3Gs sale[1]. The Apple iPhone 4 will be offered at $147, $2 cheaper than Radio Shack, which is typically the cheapest offered at $149. The iPhone 3Gs will be offered at $47 and Radio Shack has them for $49. Both price cuts at Sam's Club will be available to members only but will end Christmas Eve 2010. Of course, both versions of the iPhones are offered with the usual two-year contract in addition to being locked to AT&T.
Google's Nexus S. Another unbelievable price cut in the works is that of the Google Nexus S. This smartphone was just released at Best Buy in the U.S. on Dec. 16, although the Nexus S price cut[2] will only be available to European consumers. However, the device has yet to see European consumers since its previously announced release date today. The discount will apply to those shopping at the Carphone Warehouse in the U.K. -- the only place consumers can pre-order it for $665, $186 less than the original price. The upside is that for those who have already ordered the smartphone at the original price the discount will be applied to their accounts.
Free Droid Incredible, Sony XPERIA X10, LG Optimus S. Yes, Best buy has been offering a variety of smartphones free[3] every day. This move was part of the original Phone a Day campaign, which ended Oct. 31. The overwhelming success of the campaign sparked the company to offer at least four different smartphones free every day until Dec. 31. While there is no way to know which phone will be offered on what day, Best Buy assured consumers in a news release that at least one phone from each major carrier -- AT&T, Sprint, Verizon and T-Mobile -- will be available. The details of the campaign state that consumers participating must agree to a two-year contract for new or upgraded smartphones.
With the recession finally letting up and the smorgasbord of new smartphones on the market, the reality is that many wireless carriers and manufacturers want to make up for lost ground. Just keep in mind, though, that many carriers, such as Verizon and AT&T have increased their respective termination fees for early ended contracts. While most do not have to worry, these increases make up for the subsidized prices of the smartphones, ensuring that the carriers do not lose out on the cost of the smartphones should a customer cancel their service. Many consumers are hoping to rake in deals for the holiday shopping season and these are certainly deals that they will not want to miss.
Jessica (JC) Torpey is a self-taught computer technician with more than 10 years experience in the field. JC's passion is studying the various political and business aspects of the technology industry. Combining that knowledge with her love of computers, JC uses it to influence her writing.

Read more here:
Smartphone Discounts for Christmas - Yahoo! Tech (blog)
Popular Auction Sites:
htc evo 4g smartphone
samsung galaxy smartphone
black smartphone deals
droid incredible phone
applie iphone 4 smartphone
blackberry bold smartphone
unlocked apple iphone
Related Posts
For 2010, International Data Corporation (IDC) is now predicting total shipments of 269.6 million smartphones, compared with 173.5 million units in 2009 - growth of 55.4 percent. That's up nearly 25 percentage points from the company's 30.7 percent growth forecast released in March.
With these numbers and the rate of growth, it's easy to see why consumers have come to expect anytime, anywhere access to the Internet, data and applications, whether they interact using their computer, mobile device, tablet or kiosk. And what makes mobile access possible? Why, the cloud, of course.
So what are the factors that have led to adoptions of these technologies?

Widespread Wi-Fi

Access to Wi-Fi is one of the driving forces that is increasing adoption of the smartphone and cloud-based technologies. Today you can access an Internet connection in any local coffee shop, bookstore, or restaurant you visit, making it easy to surf the Web, complete online transactions, update your Facebook and more. It's only natural that a more personal, mobile device would be needed to access these Wi-Fi networks quickly and easily.
Rise of the Mobile Operating System

Users have moved beyond simple feature phones and on to smartphones in large part because of the development of advanced mobile operating systems. No longer do you have to scroll through endless black and white text menu options to complete tasks. Now advanced visual experience, easier navigation and touch screens lead the way to sophisticated mobile operating systems, making them easier to use and in turn easier for the masses to adopt.
Open Source Applications

Open source application development has also paved the way for increased smartphone and cloud technology adoption. With barriers to mobile OS application development being broken down, developers are free to capitalize on mobile Internet technology, creating applications for the smartphone customer that make their day-to-day life easier. Applications like GPS, restaurant locators, personal finance tools, and more combine the use of the Internet with the personalization of the smartphone features.
Decreased Cost of the Smartphone

In 2007, Apple introduced its own version of the smartphone, the iPhone, retailing for $500 for the cheapest version. While smartphones are far from cheap today, the cost has come down, with costs hovering around $200 to $300, making adoption of these devices and the cloud technology they utilize more common.
As the adoption of the smartphone and cloud-based technologies increases, developers of each technology are sure to find more and more uses that will become functional in consumers' everyday lives. For now, the convenience these technologies offer makes you wonder how you ever got along without them in the past.
DynaSis is a computer support Atlanta[1] firm that has been serving small and midsized businesses since 1992. DynaSis offers managed IT plans, cloud computing, managed hosting, IT strategy, and professional installation services. To find out more about DynaSis, visit www.dynasis.com[2].
Read more here:
Smartphones Drive Cloud Adoption | Guest Opinions | ITBusinessEdge.com
Popular Auction Sites:
htc evo 4g smartphone
samsung galaxy smartphone
black smartphone deals
droid incredible phone
applie iphone 4 smartphone
blackberry bold smartphone
unlocked apple iphone
Related Posts
Research in Motion's BlackBerry may soon lose its lock on the enterprise market, as companies look to add support for more consumer friendly smartphones--like Android and iPhone[1] devices--and the BlackBerry's vaunted security features become less unique.
RIM has built its business on providing mobile e-mail and messaging services to corporate users. Thousands of companies use BlackBerry exclusively for mobile communications. And the company dominates the market with well over 60 percent market share. Much of the corporate loyalty stems from the company's reputation for strong device management and security[2]. But a major shift is underway as IT departments are no longer dictating which mobile devices workers can and cannot use. Instead, employees are bringing their own smartphones and tablets into the office and finding ways to work them into their professional lives.
Forrester Research recently issued a report concluding that the iPhone and iPad are "secure enough," with the right policies and technical controls.
"The choice of which mobile device to support in a company is no longer happening in the CIO's office," said John Herrema, senior vice president of corporate strategy at Good Technology, a company that offers enterprise class device management and mobile security solutions. "It's happening at a retail store one consumer at a time. It's a big shift, and companies have to adapt."
While RIM is still considered the gold-standard when it comes to security, CIOs say they can no longer ignore the needs and demands of their workers, who want to use their personal cell phones for work.
"We've always been a BlackBerry house," said Rusty Yeager, deputy chief information officer of HealthSouth, one of the largest health care providers in the U.S. "But we recently started to dip our toe into supporting other platforms. Our employees and some of our doctors are really pushing us to support iPhones, iPads, and Android devices."
John Dick, CIO of Western Union, another BlackBerry-only firm, said his company is already testing applications developed for the iPhone, and it will eventually support Android devices, too. The company is still evaluating the costs involved with supporting an additional mobile platform or two. But Dick said Western Union will get there.
"Our CEO already has an iPhone," he said. "The truth is that most people carry two devices. And they really only want to carry one, so it just makes sense if we can make that happen."
Indeed, the proliferation of smartphones in the market, and the success of the Google Android[3] devices and the iPhone among consumers, is driving demand in the enterprise. And it's not just iPhones and Android phones that people want to bring into work, the Apple iPad[4], which sold 3 million units in its first 80 days on the market[5], has also become popular among workers.
"There's no question that tablets are hot right now," Good's Herrema said. "So any company that is considering adding more device support is looking at that category and thinking about how it can best address the needs of its users."
This is likely why RIM announced its own tablet, the PlayBook[6], months before it will even be available. Even though many of the details of the device were missing at the launch and reviewers have yet to get their hands on it for a full review, RIM may have announced something just to prevent its corporate customers from allocating money in 2011 budgets toward buying iPads and Android tablets.
No longer a lock on the market
Until recently, many corporate IT departments resisted supporting any devices other than those running on RIM's BlackBerry Enterprise Server. The reason was that the original iPhone and Android software lacked adequate security features for business users. But over the past two years that has changed.
With Apple's OS 3.1 and Google's Android 2.2, the software platforms now each offer enough security features built-in to satisfy most enterprise requirements. And this is coupled with support from companies like Good Technology, which offers message encryption and server architecture similar to what RIM offers. The main difference is that the Good technology allows companies to support multiple mobile platforms, including iPhone and Android, along with traditional Windows Mobile, Symbian, and Palm Treo devices.
The combination in enhancements has been enough to satisfy some analysts. Forrester Research recently issued a report concluding that the iPhone and iPad are "secure enough,"[7] with the right policies and technical controls. Just like RIM, Apple now supports e-mail message encryption, device wipes, passcode locks, autolock, automatic autowipes, protected configuration profiles, and continuous refresh.
Google Android phones using version 2.2 of the software also now meet most enterprise security criteria. And device makers, such as Motorola, are also trying to enhance the hardware to provide even better security and remote management. At last week's CTIA trade show in San Francisco, Motorola introduced the Droid Pro[8], a BlackBerry-looking device with a touch screen and full QWERTY keypad that offered security features inherent in Android 2.2 as well as additional features added by Motorola.
The added competition from the iPhone and Android phones is already starting to eat into RIM's market share. From May to August of this year, RIM's market share dipped from 69 percent to 66 percent, according to a survey by ChangeWave Research.
The added competition from the iPhone and Android phones is already starting to eat into RIM's market share. From May to August of this year, RIM's market share dipped from 69 percent to 66 percent, according to a survey by ChangeWave Research, which tracks spending trends among businesses.
Meanwhile, Android usage among business users has steadily climbed since November 2009. Nearly a year ago, only about 3 percent of companies said they supported Google's mobile operating system. In August 2010, that percentage jumped to 16 percent of surveyed companies saying they support Android.
The iPhone has also become popular among business users, and Apple now accounts for about 30 percent of the enterprise smartphone market share. And as the iPad grows in popularity that figure is likely to climb.
Most experts agree that RIM is not likely to disappear from the corporate landscape anytime soon. There are still many corporate consumers who like the look and feel of the BlackBerry. What's more, the company is trying to develop devices that will appeal to consumers, such as the new touchscreen BlackBerry Torch[9].
So it's likely that RIM will remain a major player for some time. But it will have a lot more competition. Herrema said that market opportunity for Android and Apple in the enterprise is not in getting existing, company-issued BlackBerry users to migrate to a different smartphone. Instead, he said, the biggest opportunity is in enabling the other 70 percent of workers who haven't been issued a BlackBerry access to corporate e-mail and other company resources on the go.
A recent survey from Morgan Stanley suggests that 14 percent of CIOs said their companies are already doing away with company-issued phones and plans and are moving toward allowing employees to use their own phones and service. Another 32 percent said they were currently considering moving in this direction or toward a hybrid approach where the company pays for some cell phone bills and not others.
"RIM may see its overall marketshare decline," Herrema said. "But the entire pie for smartphones is growing, which means it may actually be able to grow sales. The exciting trend right now is not fighting over the 30 percent of a company that has company-issued phones and service, but to address the rest of the employees who already are buying a smartphone and want to use it for work."
Read more here:
iPhone, Android give RIM insecurity complex - CNET
Popular Auction Sites:
htc evo 4g smartphone
samsung galaxy smartphone
black smartphone deals
droid incredible phone
applie iphone 4 smartphone
blackberry bold smartphone
unlocked apple iphone
Related Posts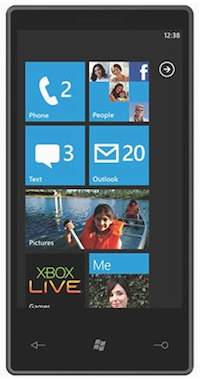 Exactly one month ago, the employees at Microsoft's Redmond HQ threw a funeral procession cum party[1] celebrating the demise of the iPhone and the Blackberry. The event, while obviously tongue-in-cheek, was a clear sign of how confident Microsoft was feeling about completing work on its new Windows Phone 7 (WP7). The message was clear: Microsoft has designed an "iPhone killer". Today, October 12, that claim will be put to the test as Microsoft launches WP7 to a sceptical public.
It is hard to over-emphasize how important this launch is for Microsoft, the company that once defined personal computing, but which today seems to be only a shadow of its former self. "This is an 11 on a scale of one to 10," said Ramon Llamas of technology research firm IDC[2]. "Microsoft has been slow to come to market, and when they do, they use yesterday's technology. There's some catching up to do."
Technology analysis firm Gartner[3] was scathing, predicting that the launch is likely to be a non-event, stating that "….Windows Phone 7, set to be formally introduced next week, will barely move the needle on the company's dismal share of the smartphone OS market".
The launch will be handled by Microsoft CEO Steve Ballmer[4], who came across as quietly confident to the Wall Street Journal[5]. Ballmer acknowledged that Google and Apple have moved really quickly to dominate the mobile space, but he noted that "the fact that things have been pretty dynamic means that they're probably still pretty dynamic". Back in 2007, Ballmer infamously commented that "there's no chance that the iPhone is going to get any significant market share. No chance." History has proven him catastrophically wrong, as the iPhone went on to become Apple's best-selling product of all time.
There have been hints, forecasts and a general feeling that Microsoft may be about to launch something special. During technical previews of the phone, definitive mobile blog Engadget wrote[6] "We were extremely surprised and impressed by the software's touch responsiveness and speed," while ZDNet.com[7] reported "I am blown away by how stable this version of the software is".
There was further positive, if not exactly glowing, analysis[8] on tech-blog MobileCrunch in July, which neatly captured the underlying dilemna: "…while lovely, WP7 has an absolutely ridiculous mountain to climb. Microsoft is returning as an underdog in an arena where they once reigned as champion — and they're an underdog with weights tied to their feet and a reputation of being too old to fight. They're miles behind the competition, both in timing and functionality."
Microsoft has chosen not to develop its own handsets at this stage, but rather to work with Samsung, HTC and LG to supply handsets, which will reportedly be available before Christmas. Ballmer again: "We put out to our partners that we were going to build on a certain minimal so-called hardware chassis. So you could say we did some design work, but we're certainly not selling phones." The Associated Press notes that "smartphones powered by WP7 will run email from various services, not just Microsoft's Hotmail, integrate calenders, contacts and social networks and allow for documents to be viewed, edited and shared using Microsoft Office. WP7, which represents a shift for Microsoft from the enterprise market to the consumer, will also allow users to tap into Microsoft's Zune music player ecosystem and to access mobile versions of Xbox 360 games."
Microsoft, while under pressure, has not been completely without success over the last year. Its search engine, Bing, has steadily won over critics, while the Windows 7 operating system has relegated Vista to a distant bad memory. But the train smash that was Microsoft Kin[9] is looming large over the new smartphones. For those who missed it, the Kin was a range of mobile phones that were launched by Microsoft and Verizon in April 2010 and discontinued only six weeks later. The reasons are many, but essentially the phone was over-priced, had no apps or game features, and could barely manage what other smartphones do in their sleep. Critically, it also lacked any cool factor at all, and this is something that WP7 has to get right.
The launch, which takes place in New York at the Microsoft Technology Centre, kicks off at 3PM Eastern Time and you can watch it all as it happens right here[10].
Read more here:
D-Day as Microsoft unveils its flagship smartphone | memeburn
Popular Auction Sites:
htc evo 4g smartphone
samsung galaxy smartphone
black smartphone deals
droid incredible phone
applie iphone 4 smartphone
blackberry bold smartphone
unlocked apple iphone
Related Posts
Home » Technology[1][2]
10 October 2010 | Posted by: Steve L. | File Under: Technology[3] |
|
No Comment
Nokia's latest smartphone on the market, N8 has shown that the manufacturer is still poised to come out with innovative smartphones and wont bulge to competition from rivals such as Apple HTC, BlackBerry, etc.
The smartphones' dimensions are 113.5x 59.1x 12.9 mm which is just like many rivals and it also looks sleek, attractive and quality. The device is not heavy at all with a weight of just 135 grams and that means it can be held in just one hand without any problems.
It also comes in various colors such as dark grey, silver, green, blue, red, etc. to give additional beauty.
Read more here:
Powerful smartphone Nokia N8‏ | iFreshNews
Popular Auction Sites:
htc evo 4g smartphone
samsung galaxy smartphone
black smartphone deals
droid incredible phone
applie iphone 4 smartphone
blackberry bold smartphone
unlocked apple iphone
Related Posts